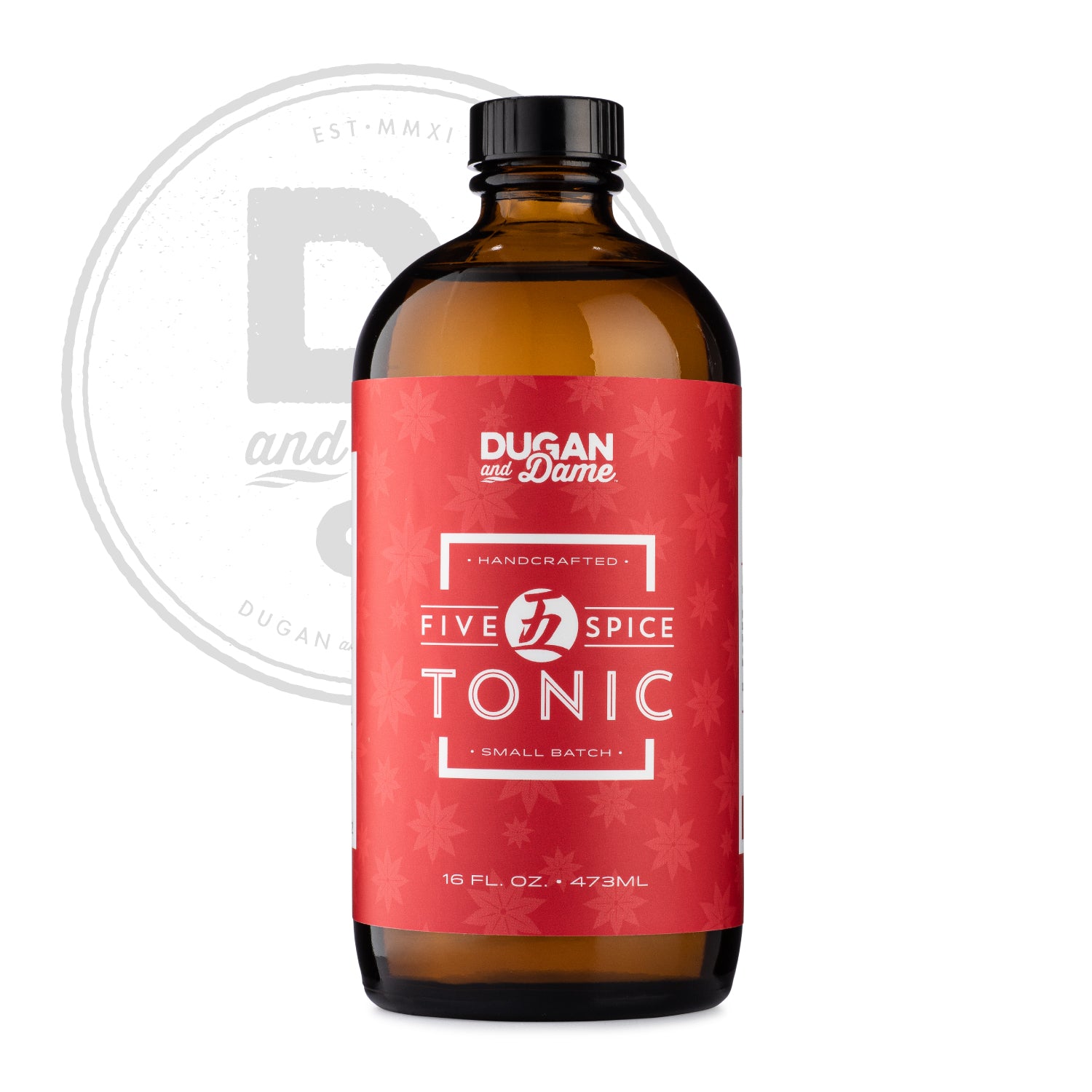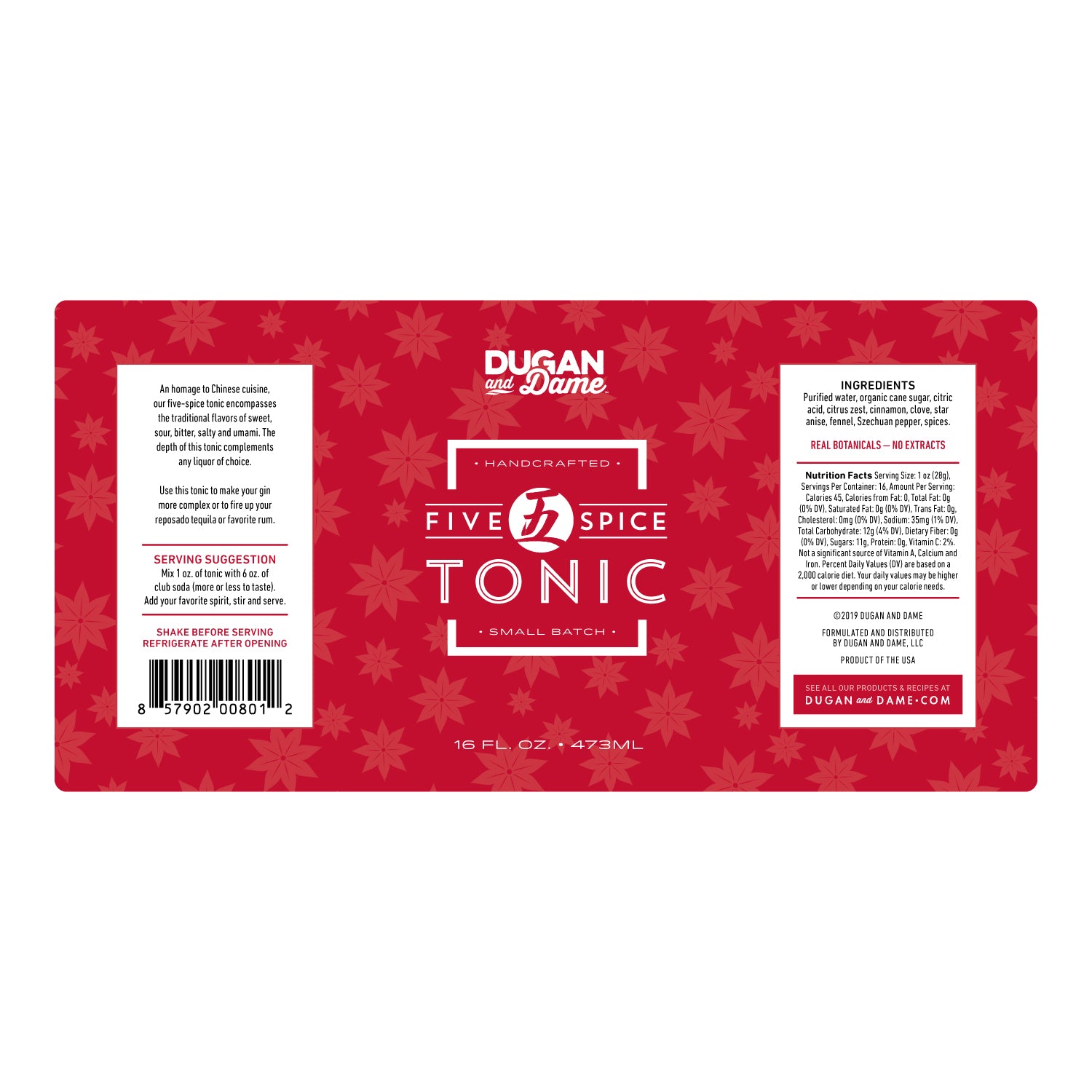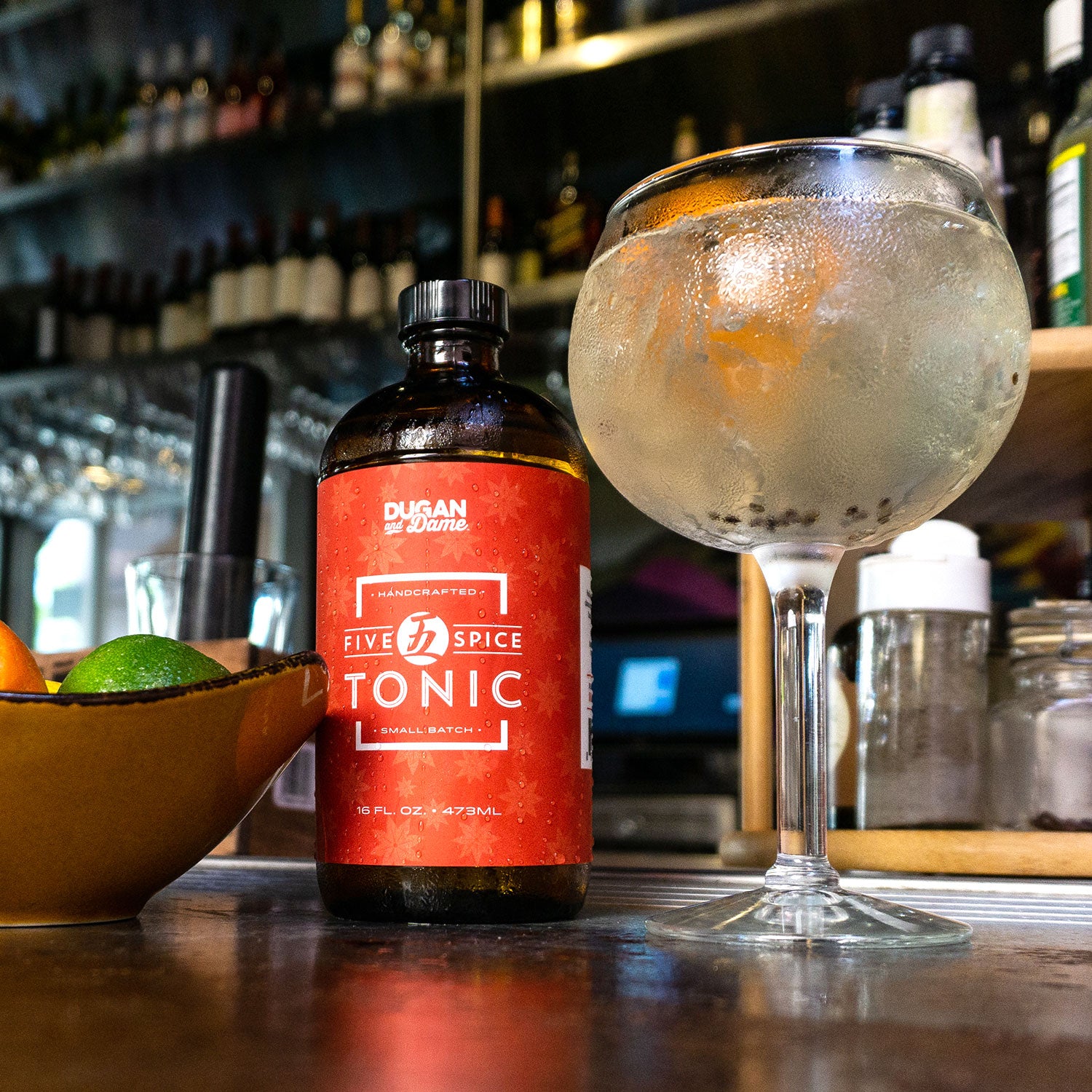 Five Spice Tonic
Pickup available at Dugan & Dame HQ
Usually ready in 24 hours
Dugan & Dame HQ
Pickup available, usually ready in 24 hours
136 Northwest 16th Street
Boca Raton FL 33432
United States
+19548999505
Our handcrafted Five Spice Tonic pays homage to Chinese cuisine encompassing all of the five flavors - sour, bitter, sweet, salty and umami. Playing off our Classic Tonic, we add in ingredients of a traditional five-spice blend to create a tonic that is truly unique and intriguing. The depth of this tonic truly can complement any spirit of choice… Although we are partial to pairing it with a great reposado tequila! Or Japanese whisky - that is if you can get your hands on some.
ON THE PALETTE
Impressions of fall with depth and balance of spice. Asian culinary knew what it was doing when it combined these spices.

STARRING ROLES


BEST FRIENDS
Ay Caramba! Reposado tequila! The depth of flavor and spices balances well with the wood and agave in an aged tequila. And you thought we were going to say Shochu… Well it actually goes with that, too. Trust us!

ABOUT TONIC
Tonic water was created to improve the taste of the daily ration of quinine given to sailors and soldiers as an anti-malarial medication. Naturally booze found its way into the mix making the medicine more enticing for the consumer. In fact, this beverage was so tasty that not only did it never disappear, it is experiencing huge popularity in many countries across the world.
Our tonics are hand crafted using only organic and wild crafted botanicals. We utilize traditional methods of herbal medicine making and sweeten them only with organic Florida grown sugar. Conventional sugar is devastating Florida waterways and we refuse to participate in that destruction. We are conservation minded folks who care about the plants and the world we live in. From the harvesting of the plants to the bottling of our products, we take care in every step. You'll be able to taste the love.
Our tonics are syrups and require club soda for dilution. Each cocktail (or mocktail) will require 1/2 oz. to 1 oz. of tonic syrup. You can also search our recipes for some inspiration in utilizing our tonics in cocktail crafting. Their depth of flavor really lends itself to your imagination.
Don't consume alcohol? Sometimes we don't either and we want to ensure you our products taste just as good without the booze. Go ahead, give them a try.
Separation is natural. Be sure to shake before pouring.
RECIPES
Click here to view all of our recipes.

• 16 oz. Bottle